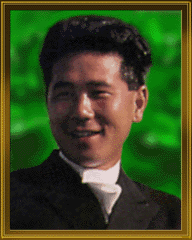 To all those horse lovers in the world, let me introduce one of my instructors
, who used to be the chief of Crane Olympic Park (COP)...


Mr. Iwatani is a three time Olympic representative for the Japanese eventing team. He is sometimes referred to as "Mr. Cross Country" in Japan. He competed at the Seoul , Barcelona and Atlanta Olympics. At Barcelona the Japanese Eventing team finished in the 7th place. And we were very excited when they finished in the 6th place in Atlanta!

Currently he is the chief at Crane Ryugasaki, which is located in the north of Tokyo. Crane Ryugasaki is one of the 15 branches of Riding Club Crane network. It newly opened in August 1996 and he is responsible for everything not only as one of the top riders in Japan but also as a manager at the new club. I would like to wish him the best of luck!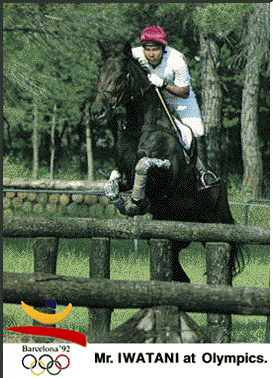 Whilst at COP, Mr. Iwatani was responsible for not only instructing but for selecting members for various teams, one of which I (Kaoru Jinko) belong to, "BE TOP", (Best Equestrian Team of Olympic Park). Every 3 to 4 months, a small competition/test is held where specific members are selected for this team. Presently there are 10 members and we meet on Sunday afternoon to practice our jumping.
Mr. Iwatani was the instructor in charge of "BE TOP". His instruction method is logical and explicit. He always has so much to tell you that he occasionally forgets his original topic. He is down-to-earth, conscientious and considerate. He gives you a lot of strict and serious advice but always manages to find something good about your riding. He lavishes praise on anyone if he/she does just a little better no matter what level he/she is at the moment. I would say he is one of the best instructors I have had a lesson with.
Outside the lime light, he is a party lover! He drinks a lot but is always considerate of other people at the party and makes sure everyone is enjoying themselves as much as he is. Mr. Iwatani is a pleasure to be with, a wealth of information, and I consider it a great privilege to know and learn from such a respected and knowledgeable horseman.
MR. CROSS COUNTRY DATA SHEET
NAME
KAZUHIRO IWATANI
Hight
173 cm
Weight
68 Kg
Birth Date
June 8, 1964
31 years of age
Birth Place
Kyoto City
Marital Status
Married
Turn-Ons
Golf, Cooking(favorite dish=seafood spaghetti),
Karaoke, Movies(especially romance), Summer
Graduated from
Political Science Dept. of Nippon University
---
[Back to Crane Olympic Park][Toppage]