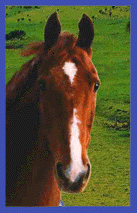 Konnichiwa! I am Pooh!
I was born on September 20, 1982 and trained as a showjumper in Australia. I flew to Japan when I was 7 years old. I am a chestnut Australian thoroughbred and stands16.1 hands. My passport name is MC. I was already experienced enough to train some Japanese amatuer riders.

I won at the National Athletic Meet in Kanazawa with a future Olympic showjumper, Ms. Chieko Yamaguchi as my rider.

I have entered so many horse shows and competitions all over Japan with many instructors on my back. I consider myself to be a good teacher for Japanese riders.

Do you know what I miss? Space! Japan is a small and montainous country and I miss running around in a big, open area back home.

Finally, I will tell you why they all call me Pooh. Don't I look stupefied/vacant the way I look at you? They think my vacant look is very cute and I look like Pooh rather than MC. Maybe they want me to be "Winner the Pooh"!

Sayonara for now.
---
[Top Page in English][Top Page in Japanese]