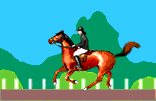 I am really into . Even though I can only go riding on weekends, I spend the whole day at the club. When I am jumping on a horse, I feel happiest. The higher the jumps are, the more exciting and thrilling it is! I have been jumping intensively but only for 7 years, so I am not great at it. But it is so much fun. I love competitions. I practice hard because I want to win at horse shows.

The picture below is me with DEQUILA. Would you like to know more about him? Click here!
---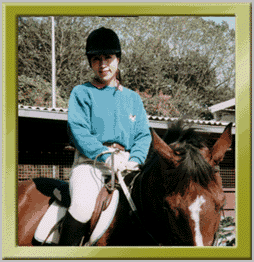 I also love . I always had small pedigree dogs, like Yorkies, in the past. When my last Yorkie, Farah, passed away, I got so depressed that I decided that I would never own another dog. However, I couldn't resist the temptation of dogs for very long....they give you so much love that you simply cannot live without them. But, instead of buying a dog, I adopted two stray dogs. I am very happy with them and I am now trying to turn them into frisbee dogs. Because they are mongrel, they are hard to train. They don't have the kind of concentration or energy that Border Collies or Aussies have. But I am just enjoying what I can do with them. I know it is going to take a long time but I will keep trying!

Want to see what they look like? Click My Dogs in the menu-box below!
---
By the way, has anyone ever wondered why horses and dogs always go together? Almost all of my riding friends have dogs, not cats. And why are there always dogs in all riding clubs in the world?
---
[Top Page in English][Top Page in Japanese]