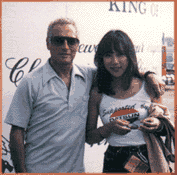 I was an interpreter for Paul Newman in Daytona, Florida.
---
Why my E-mail Address has "Pooh" in the beginning? Because my horse's nickname is Pooh!
My true name is Kaoru Jinko. I was born in Osaka, Japan. Ever since I can remember I have always been interested in America. I liked everything about America even before I really knew much about it, and even though I couldn't speak a word of English.

Anyway, I studied English hard, or rather, I enjoyed studying English. I enjoyed it so much that I was always the top student in English class. I entered Osaka University of Foreign Languages and made a lot of foreign friends there. I really enjoyed communicating with foreign students in English during those days. At the same time, I started saving money to go to college in America. I did everything, from private-tutoring to cocktail-waitressing.

Finally, I went to Hartford College for Women in Hartford, Connecticut in 1979, and fell in love w/ America even more. Thanks to American hospitality, I had a great time while I was there.

When I returned to Japan, I started an English conversation school in Osaka. As the English conversation business was booming and there were very few young female entrepreneurs at that time, I was invited to be a guest on several radio talk shows to talk about my school. In other words, I did free commercials for my school and actually got paid for it!

So that's what I do for a living. I have had my school for 13 years now and I employ about 10 native English speakers as teachers.

What's the name of my English school?

"Little America English Service"
I wanted it to be the key to America in Japan for my students.

So much for my story, right? Now please go back to the top page and choose whatever you would like to browse!
---
[Top Page in English][Top Page in Japanese]