Nice to meet you all! I am Dequila!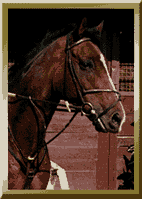 Last Updated on July 28, 1998.

You can see our competition results here. 1997 , 1998.

You can also download 7 QuickTime Movies and see how I jump with my owner, Kaoru.



---
Am I glad to have Kaoru Jinko as my owner since November 1, 1995! Kaoru and I have a great rapport. For one thing, she always stuffs me with lots of carrots! And it has become my goal to turn her into a great jumper.

---
I was born in 1982 in Australia and trained to be a Grand Prix Class showjumper. I am a bay colored gelding. I have some Thoroughbred blood in me, but everyone says I look too stout for it. I am 16.5 hands tall, so I am a little bigger than Pooh.

---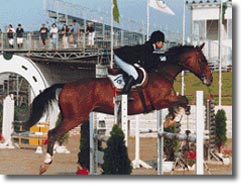 I live at a club called Crane Olympic Park, which is located in Nara Prefecture, Japan. Just before Kaoru got me, I finished in the 3rd place at the National Athletic Meet in Fukushima. Pretty good, huh? Mr. Isamu Nakamura, who rode me in the Grand Prix Class of All Japan Horse Show in 1993, says I am very, very serious about jumping. There is no such word as "refusal" in my dictionary. I am usually a pretty laid-back horse outside the ring but I am a daredevil once I start a jump course.

(Right: At Osaka Grand Prix Horse Show on Oct.3, 1997)

---
I have very long strides, so even though my canter rhythm is slow, I can go very fast. That's why Kaoru won in the Ladies Class of Nara Prefectural Horse Show on November 19, 1995. I paid my respects to my new owner by giving her a Blue Ribbon. I also gave her a green ribbon by finishing in the 6th place at Sugitani Indoor Horse Show on the 10th of February, 1996.

---
At "Rittoh Horse Show" held on the 23rd and the 24th of March, 1996, I won again! In L-A Class (up to 110cm or 3'8"), 6 horse-and-rider combinations including us were clear to go to the jump-off. Kaoru and I were the last to go. Knowing that nobody had been clear, I just cruised to a safe and sane clear for a victory. I was never close to trouble in the first round or in the jump-off. It was routine for me. Surely Kaoru made a few mistakes but so what. It was my pleasure to give her the second Blue Ribbon.
---
At "Kinki Horse Show" which is one of the biggest official shows in Japan and was held from May 10 to 13, 1996, I finished 6th on the first day (Ladies Class/Speed and Handiness), 6th on the second day (Ladies Class/Normal Jumping), and 4th in the Ladies Class/Final on the last day. Seems like I never fail to give her a ribbon at every competiton, right?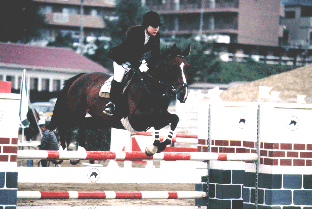 Left: At "1996 West Japan Horse Show".

Photographer Tetsuya Yamada of "Nikkei Woman Magazine". All rights reserved.
I will keep you posted on my activities in Japan. So keep browsing!

---
[Show Results 1997][Show Results 1998][Top Page in English][Top Page in Japanese]